EMC37 is the result, or the summary so you whish, of the experience of Steven Casaer in many fields of the racing scene, the industry and journalism. After having put an end to his career as a professional race- and testrider in 2003, the step to start up his own business was quite logical. In between races, Steven was already actively testing for motorcycle magazines and manufacturers, setting up suspension for other riders, organising training sessions and doing freelance data recording. In 2004 the moment had come to put this experience, already known by the name www.bikesetup.be, at the disposal of a larger public, as well professionals as individuals. Meanwhile, we're 3 people working at EMC37 and we work together with some independent partners when it comes to specific abilities, such as welding, painting and milling. EMC37 however is not a shop: we don't have opening hours and we don't do normal maintenance or repairs. For these tasks, we can give you some addresses of several dealers with whom we work. What you can contact us for is all explained here:
The roots of EMC37 bvba is and will always remain the setup of suspension and chassis. That's our core business, and often the basis on which other activities are built. Suspension work however has many different faces, going from adjustment over revision to adaptations, rebuilding and even fully tailormade. Whether it's for a bike for street use or for racing, we can always find the best solution for you. Harder, softer, higher, lower, more comfortable, tougher: it can all be done. The prices are based upon a fixed list, which you can download at the products section. Our workshop is fully equipped with all necessary machinery to deliver complete and thorough suspension work. Vacuum pumps for the purging of a shock absorber, a suspension test bench and different applicational machines are used on a daily basis.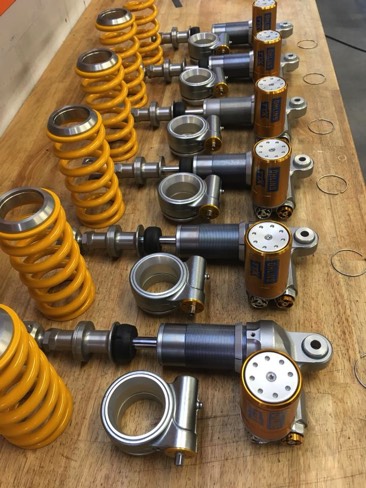 Since the beginning of 2007, we're the official Belgian Service Centre of Öhlins Racing AB from Sweden. This collaboration means that we have access to their large database of Öhlins settings, which comes to the advantage of our many clients who are active on the racing scene. We also have access to all parts, so we can even provide a suspension for bikes for which no replacement shock absorbers exist yet. For the areas that are not really our specialisation (motorcross, high-en supermotard), we can rely on a large Öhlins database and the experience of our foreign colleagues active on world level, such as Andreani in Italy and HK Suspension in the Netherlands.
Preparing motorcycles for track use
Whether it's for a day of free riding sessions or for the participation at a real championship, your bike can be perfectly prepared here. Thanks to our experience it's not just 'our cup of tea' but we have many small goodies and must haves that are often very hard to find: safety wire and plyers, anti explosion foam for reservoirs, rough aluminium and carbon plates, all kinds of bolts and nuts, all electronic devices. Preparation is also a very large activity: for some it is just the final setting, others bring in their standard bike and leave with a race bike and a box filled with original parts...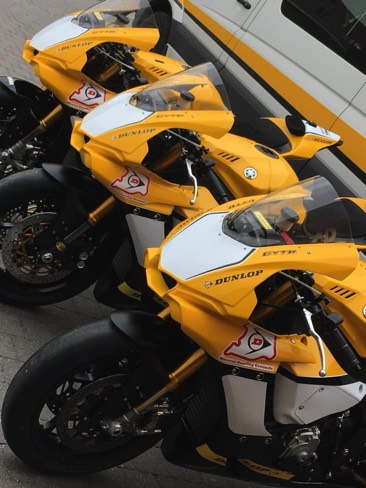 Tailormade motorcycles for individuals
A niche market, but for us one of our main activities and at the same time our sign-board, is the building and modifying of motorcycles on demand. We start from the customers' bike or from a new bike which we buy at one of our dealer-partners. This dealer will also assure the maintenance afterwards. The tailored customizing goes as far as the customer wants: everything can be replaced or custom made, we dispose of the necessary machines and experienced people to execute this work correctly and at a high level. Furthermore, we have a large network of partners to make special parts: turning, milling, lasering, 5-axis CNC milling, everything is possible. By designing the parts here in 3D, the customer can give his opinion before they are made and if necessary, they can still be adjusted to his wishes. It goes without saying that these projects have a solid price tag: but most of the time, we start from the customers' budget and the material that might already be available in order to come to the desired result in close cooperation with the customer. You will find some examples and prices in the projects section.
About 10 years ago we were there at the cradle of the Motorsportschool Zolder. Same goes for the Bikers' School and the Stéphane Mertens Racing School. Courses on track are still one of our favourites, and we still maintain a good collaboration with all these schools, but due to a lack of time we're not able to make a fixed schedule here. Teaching on circuit therefore has evolved in teaching-by-appointment. Small groups or even individuals can hire us to teach on any circuit in Europe, whether it's a circuit they rent themselves or whether it's through subscription with one of the existing organisations. We also give guest-courses at the existing schools. You can check where you can find us in the activity calendar. Also theoretical courses are part of our activities. Suspension courses organised by ourselves (check calendar) or for which dealers can hire us for their open door days or info evenings. Furthermore we organise seminars for schools or universities and importers or manufacturers can hire us for dealer courses.
Datarecording and engine management
After having worked for 7 years as free lance datarecording engineer for several teams and with different systems (2D, Magneti Marelli, Motec), we started importing 2D for Belgium and assuring service in the World Endurance Championship. Sales, installation and upgrading of 2D systems are all done in close collaboration with 2D in Karlsruhe, Germany. For several years we also made it possible to 'hire' us for an event or a test with our own system, which activity however has stopped. The aim is that datarecording clients learn to work with the system themselves hence recruit us for training or as the data specialist when they are in need of one. We were fortunate to work, on a feel lance basis, with riders such as Werner Daemen, Chris Vermeulen, Christer Lindholm, Steve Martin, Igor Jerman, Nicolas Dussauge, Gwen Giabbani, Seb Scarnato and many more. Our most recent actual clients for data recording are YART and Phase One, both active in the World Championship Endurance. This championship by the way is by far the most difficult one to set up a bike since you need to find a compromise for 3 riders.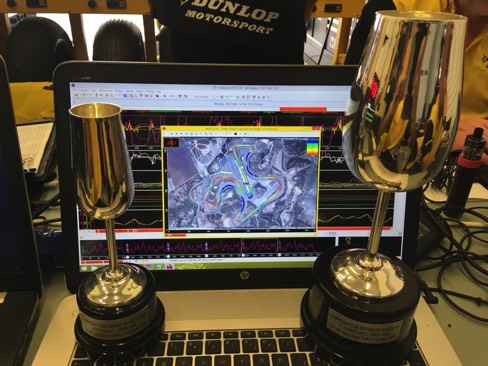 Thanks to our racing experience, we still often do some testing on track. For racing teams as well as for manufacturers, but also for magazines. This way we can stay up to date with the most recent models and test them thoroughly in an early stage. This allows us to think about the suspensions and settings with our client and get his bike set up faster. We also provide articles on tests and technical articles on a variety of subjects to magazines in Belgium, the Netherlands and England. Manufacturers who hire us for testing their products, on track or not, can count on a well documented and extensive feedback reports.
An engineer in electro mechanics, option CAD-CAM design and analysis might seem not to have many options in the motorcycle business, but the contrary has proven to be the case. There's a growing demand for dedicated CAD designs for direct programming of CNC machines. Therefore, small manufacturers and teams can make use of our knowledge.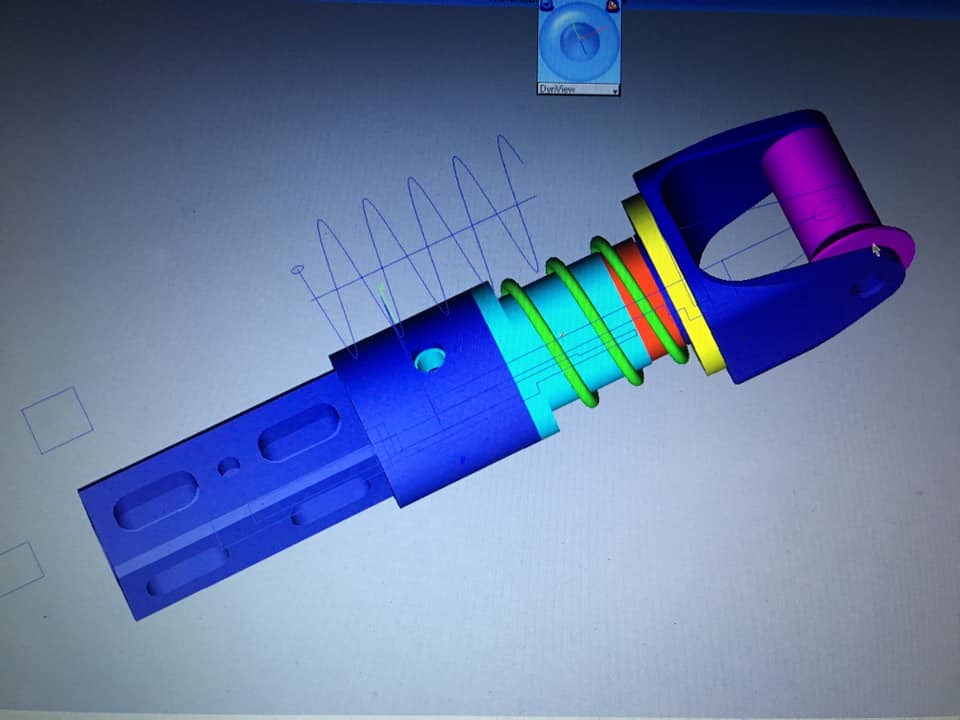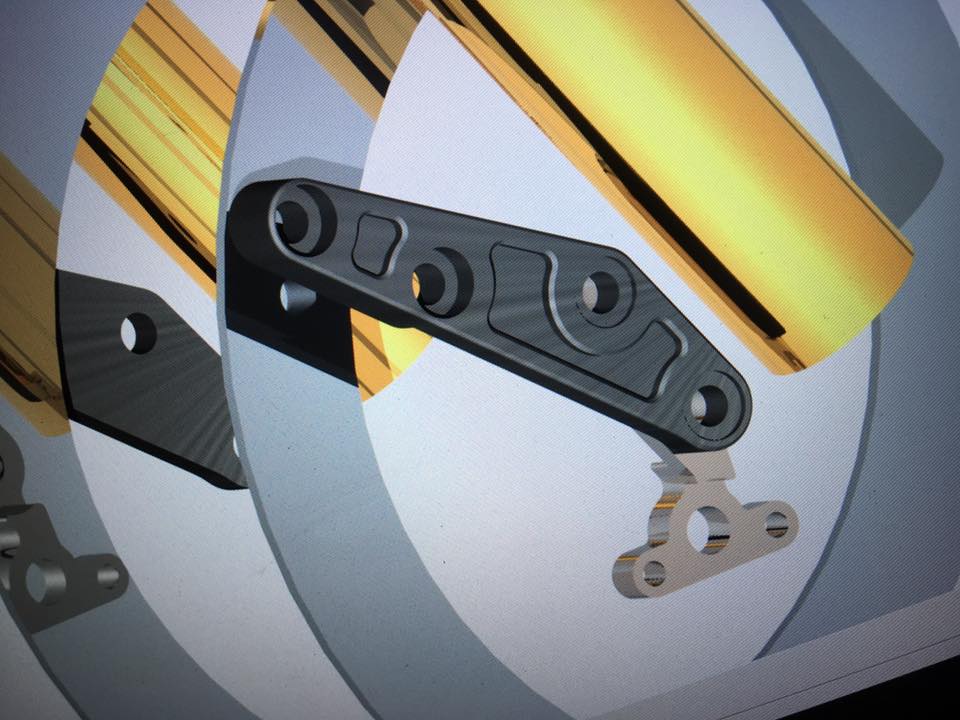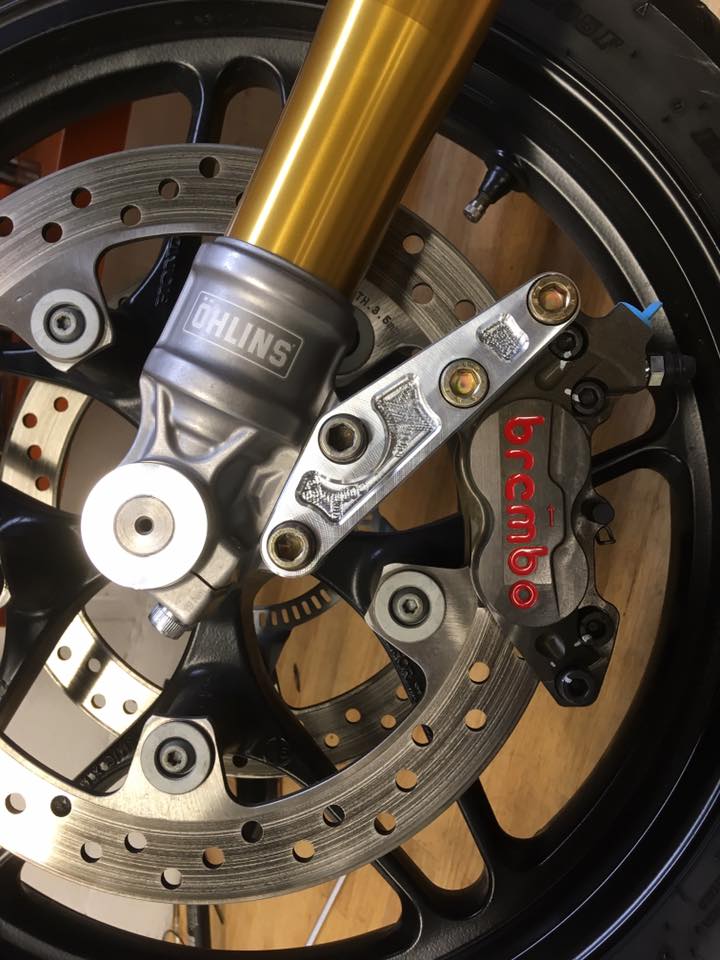 Each year we organise, alone or in partnership, a few track days, courses, training sessions and VIP events. Are you in need of someone who can organise your event, show or seminar, you can always contact us. Like with many of our other activities, also for this particular part of our business we can rely on a large network of contacts and partners to arrange an exquisite event for you.
EMC37 bvba contact
Overheet 29
9290 Berlare
Only by appointment

Mail :
info@emc37.be
GSM : +32 (0)497 37 37 19
BikeSetup newsletter
Always informed first about the latest news regarding motorcycles? Subscribe to our newsletter!